Source: Bay Area Film Events
Official Site: https://www.bayareafilmevents.com/ultraman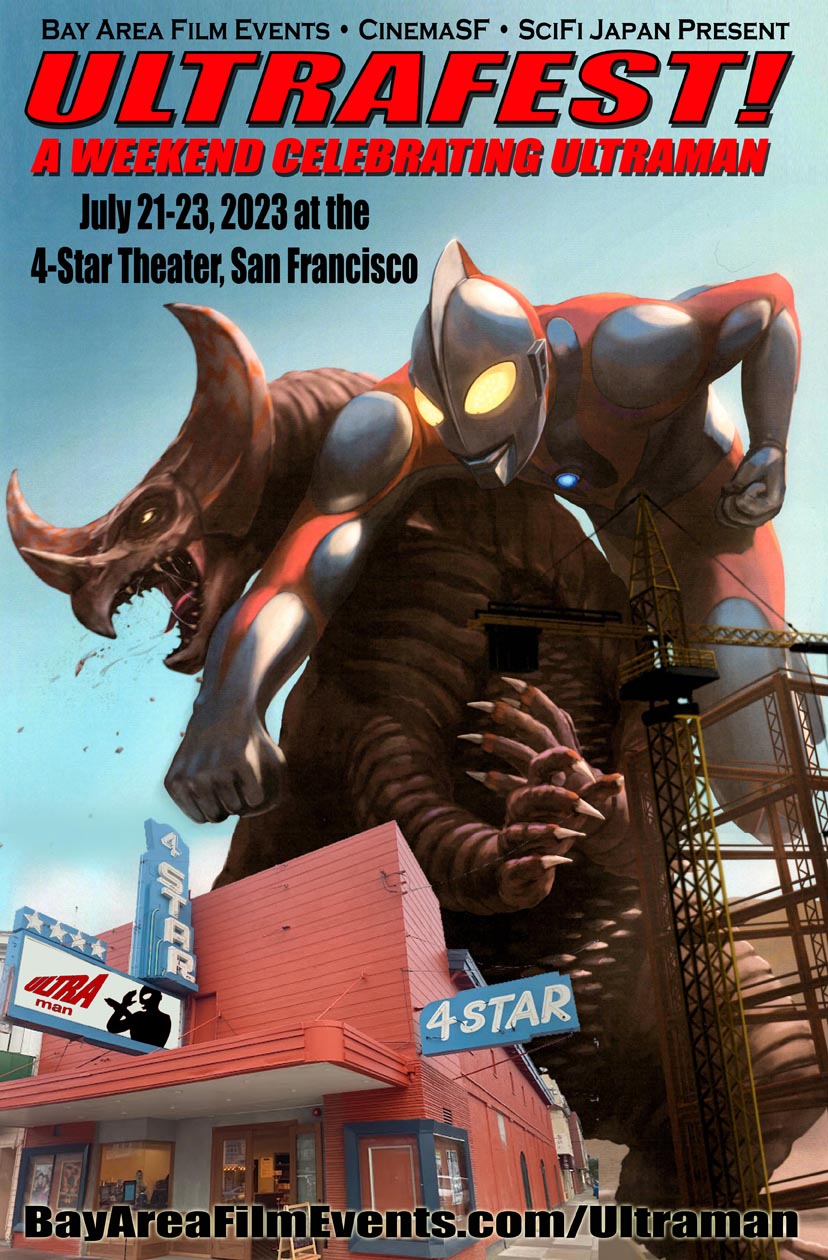 Image courtesy of Bay Area Film Events. ©TSUBURAYA PRODUCTIONS
Bay Area Film Events, CinemaSF and SciFi Japan are pleased to present ULTRAFEST, a 3-day Ultraman film festival coming to the 4-Star Theater in San Francisco the weekend of July 21-23. Authorized by Tsuburaya Productions, Starlight Runner and The Licensing Group, the event will include screenings of Ultraman movies and episodes, special guests, merchandise dealers, an art gallery and more!
Details are still being finalized, but the theatrical screenings will include the award-winning hit SHIN ULTRAMAN (2022) and new 4K compilations from the original ULTRAMAN series. There will also be sales and giveaways of event-exclusive Ultraman collectibles!
ULTRAFEST
July 21-23, 2003
4-Star Theater
2200 Clement Street, San Francisco, CA 94121
---
About Bay Area Film Events
Bay Area Film Events brings shows, events and film festivals to theaters throughout the Bay Area and Northern California... from Godzilla to The Beatles, Bond to The Three Stooges, music to comedy, BAFE presents films, bands, guests and more.
Bay Area Film Events has welcomed Richard Kiel, Judith O'Dea, Julie Adams, Ben Chapman, Russ Tamblyn, Marta Kristen and even stars from Japan like Hiroshi Koizumi, Akira Kubo, Tsutomu Kitagawa, Shinichi Wakasa and Hiroshi Maruyama.
Venues we've worked with include The Castro Theatre, Auctions by the Bay, The Grand Lake, The Historic Bal Theatre, The Del Mar, The Crest, The Cerrito and AT&T Park in conjunction with the San Francisco Giants.
As we continue to plan new and innovative shows, we invite fans along for the ride. Come out and enjoy films in theaters, the way they were meant to be seen and make new memories with us!