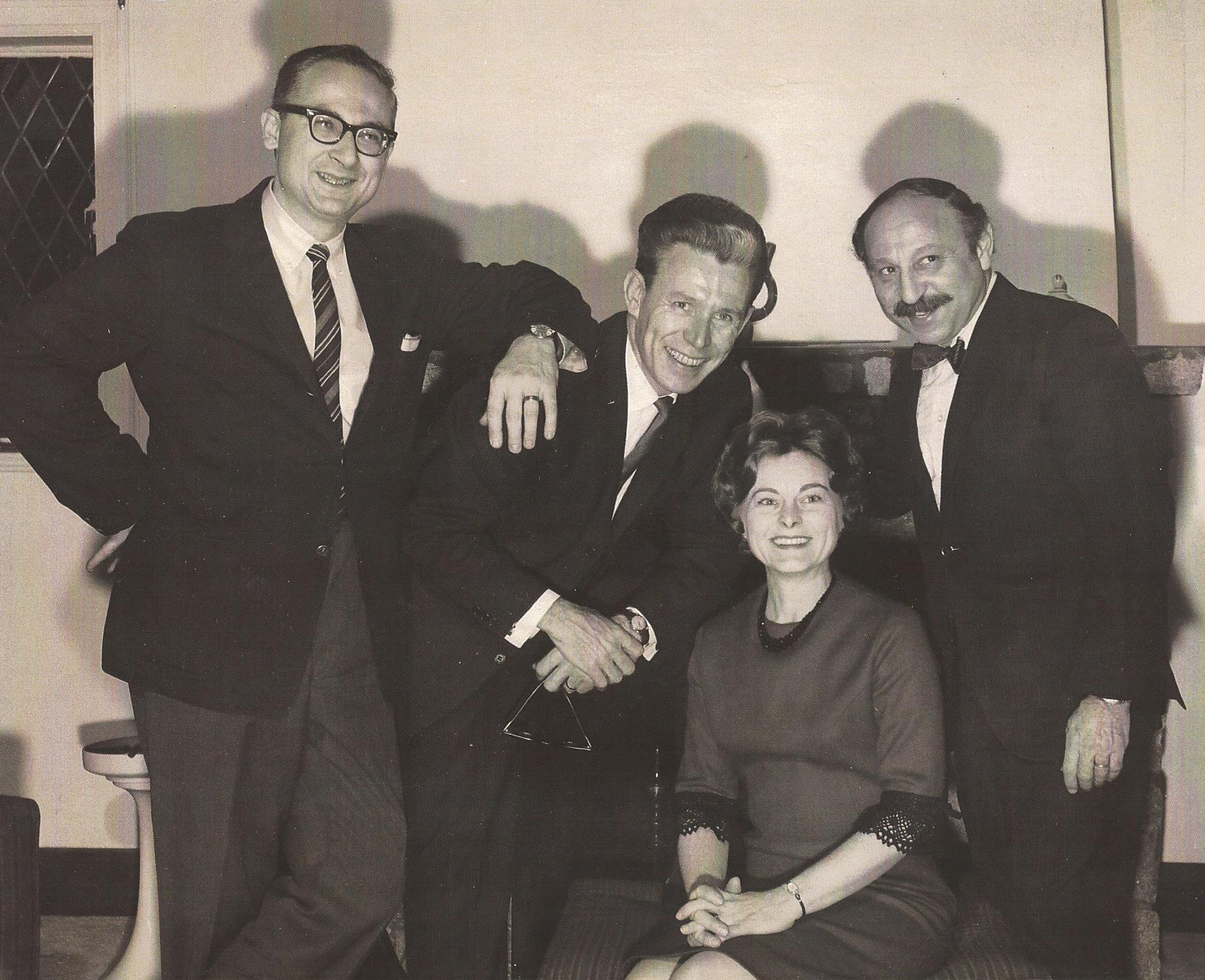 Fred Ladd, Ray Owens, Billie Lou Watts and Gilbert Mack at a dubbing session for GIGANTOR. Photo courtesy of William Winckler.
Author: Bob Johnson
Special Thanks to Jennifer Ladd and William Winckler
SciFi Japan is saddened to pass on the news of the passing of Fred Ladd. Fred passed away at his home in Southern California.
Fred Ladd wrote and directed the Americanization of Osamu Tezuka's ASTROBOY. ©Tezuka Production
Fred Ladd was a pioneer in entertainment and the man responsible for introducing Japanese animation or as it is known now anime, to the Western world. Ladd was born in Toledo, Ohio on February 19, 1927. He graduated from Ohio State University with degrees in radio and speech.
He soon moved to New York where he worked at an FM radio station and then Cayton, Inc., adapting existing nature documentaries into feature films. Cayton sold the films to European distributors, but instead of paying for the films, European companies would trade local film productions. This would eventually lead to the acquisition of animated films, which Ladd would repackage and dub for the American market.
His big breakthrough came when NBC-TV purchased the rights to Osamu Tezuka's TETSUWAN ATOMU (MIGHTY ATOM). They asked Ladd how to market the series. So, after producing a pilot episode, he wrote and directed English scripts which he would use to dub the series and release as the classic ASTROBOY. On a side note, the early episodes of TESTUWAN ATOM featured an instrumental theme song. When Fred Ladd dubbed the series, he wrote lyrics to the tune and recorded a full theme song featuring a boys' chorus. Tezuka loved the theme so much, that he went back and had words added to the Japanese theme, which ran on subsequent episodes of the series. Fred and Osamu Tezuka remained friends over the years, until Tezuka's death in 1989.
Following the success of ASTROBOY, he went on to do the same for TETSUJIN 28 (IRONMAN 28), which became known as GIGANTOR, for Trans-Lux. At the time, Osamu Tezuka's animation company Mushi Productions was readying an animated series based on his manga JUNGLE EMPORER. This was to be a black and white series about the comic's main character Leo, a white lion cub. Meeting with Mushi Productions, Fred Ladd told them that in order to sell the series, especially to network television; it would have to be made in color. Soon, this became Japan's first color TV series and Ladd would adapt it for NBC-TV as KIMBA, THE WHITE LION.
Trans-Lux trade ad for Ladd's GIGANTOR. Photo courtesy of William Winckler. ©Hikari Production
In 1965, Ray Goossens produced a Belgian-American film called PINOCCHIO IN OUTER SPACE. Production on the American side was handled by Fred Ladd and Norm Prescott (later part of Filmation). At the time, Walt Disney was still alive and Fred worried about a Pinocchio backlash. He took a print and screened it for Walt. Walt's reaction was that it was a nice, little film. Ladd was relieved and, although Disney did not pick up the movie, he was able to get Universal to release it.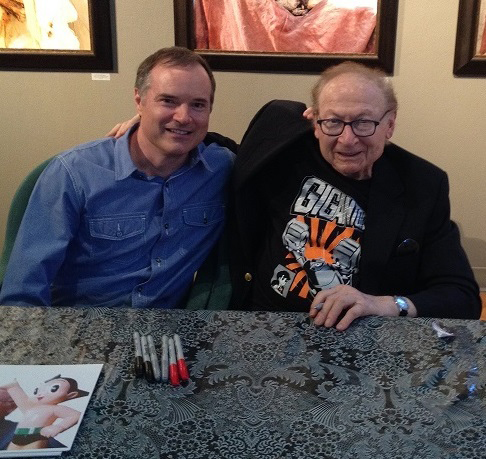 William Winckler and Fred Ladd. Photo courtesy of William Winckler.
In the 1966, Ladd worked again with William Cayton, adapting a 1955 Karel Zeman Czech film JOURNEY INTO PREHISTORY (CESTA DO PRAVEKU) for American release. The film was a potpourri of special effects, utilizing full dinosaur models, stop motion, puppets, manipulation of flat images, and other methods to bring dinosaurs to life. The film had a very documentary feel to it. Ladd re-edited the movie, filmed some new scenes, which he would match to existing footage, and dubbed the dialogue into English. The film was released here as JOURNEY TO THE BEGINNING OF TIME.
Fred Ladd returned to animation from 1968 to 1974, with a company he called Color Systems, Inc. Ladd took black and white POPEYE, LOONEY TUNES, BETTY BOOP and OSWALD THE LUCKY RABBIT cartoons and colorized them, utilizing a process in which the cartoons were sent to Korea, where artists traced frames of film, blowing them up to cel-sized proportions, painted and re-filmed them, matching the original soundtracks. This was an early precursor to what would later become digital colorizing of films and animation with computers.
Ladd went on to work on other animated projects, writing scripts for TARZAN LORD OF THE JUNGLE (1979), HERO HIGH (1980), THE INCREDIBLE HULK (1982), M.A.S.K. (1985) and GHOSTBUSTERS (1986), among others.
He also produced JOURNEY BACK TO OZ (1972), THE NEW ADVENTURES OF GIGANTOR (1980), and the Pippi Longstockings movies; PIPPI ON THE RUN and PIPPI IN THE SOUTH SEAS (both in 1970).
Ladd handled Voice Direction as well on G-FORCE: GUARDIANS OF SPACE (GATCHAMAN) in 1987 and SAILOR MOON for DIC Entertainment starting in 1997.
In 1999, I had the honor of hosting a panel for that year's G-Fest, that featured American anime pioneers Peter Fernandez (writer/director/voice actor on SPEED RACER and MARINE BOY), Corinne Orr (voice actor on SPEED RACER and MARINE BOY), William Winckler (Director/Writer on TEKKAMAN THE SPACE KNIGHT) and of course, Fred Ladd.
It was a great reunion of a group that worked together for Ladd and went on to produce their own work. To list everything these people did would be too voluminous for this article. However, their talents have created countless hours of entertainment. Everyone enjoyed telling stories about the early days of animation dubbing and distribution, voice acting and the entertainment industry in that era of television.
As time marches on, we are slowly losing many of the people who provided us with the early days of anime and paved the way for all that have come since. Fred Ladd is a monumental loss in this group and will be missed as a ground-breaking talent, as well as a great human being.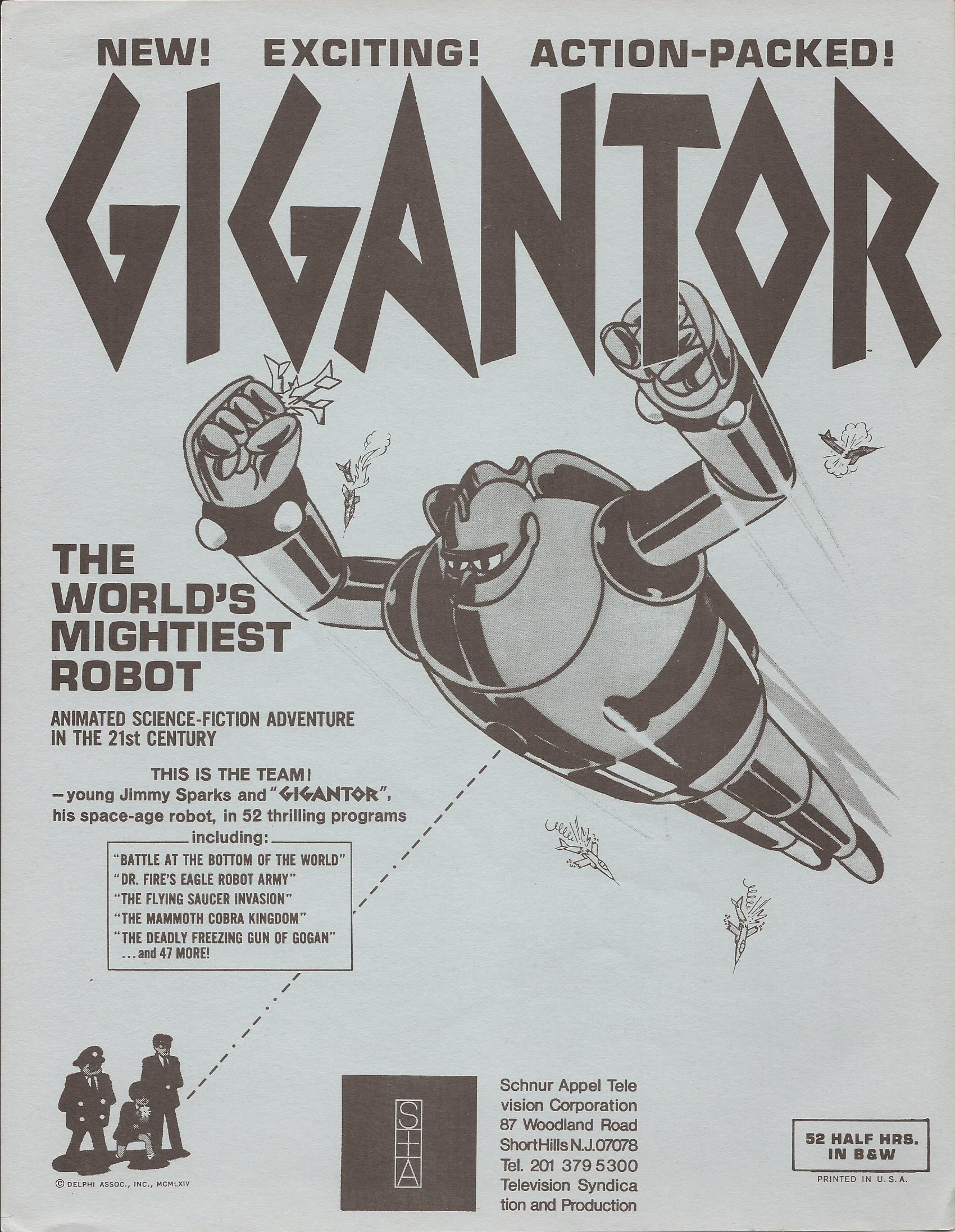 Photo courtesy of William Winckler. ©Hikari Production
Photo courtesy of William Winckler. ©Hikari Production