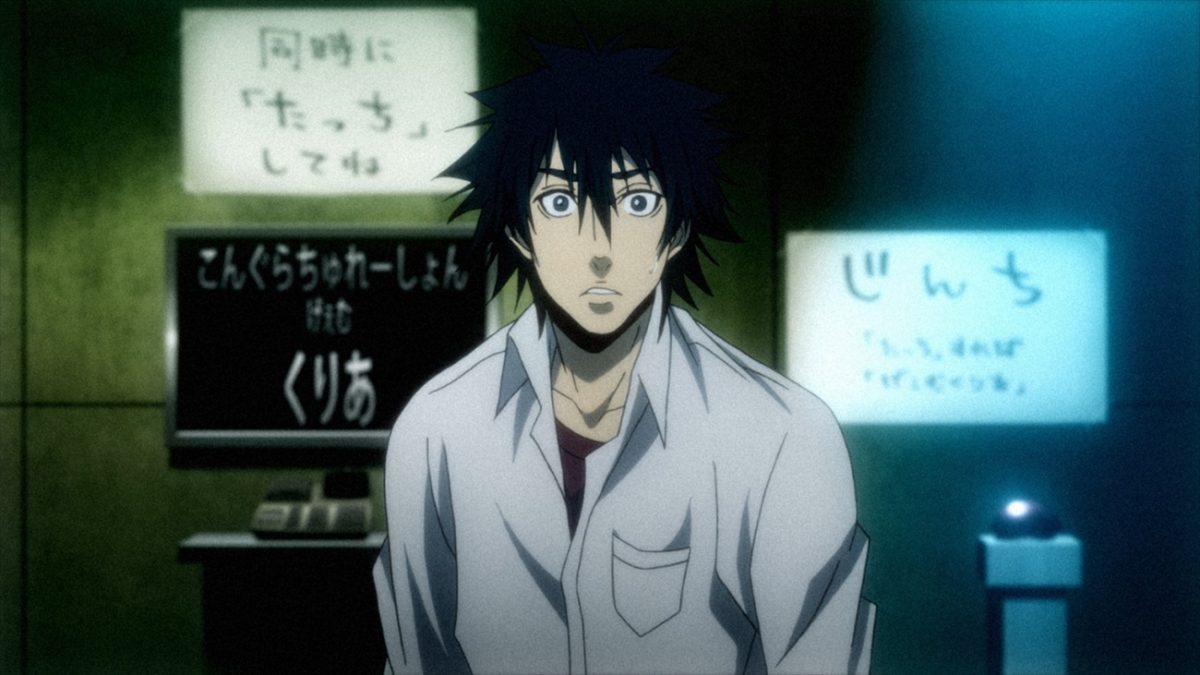 Source: Sentai press release
Sentai announced today that it acquired the psycho-suspense thriller ALICE IN BORDERLAND (今際の国のアリス, Imawa no Kuni no Arisu, 2014-15) OVA series, based upon the manga series by Haro Aso. Sentai will distribute the three-episode ALICE IN BORDERLAND OVA series to audiences in the United States of America, Canada, United Kingdom, Ireland, Spain, Portugal, the Netherlands, Scandinavia, Australia, New Zealand, South Africa as well as Latin America.
Be careful what you wish for. Antisocial misfit Ryohei Arisu wanted nothing more than to leave his mundane life behind, but a careless wish on a firework transports him to the post-apocalyptic Borderland, a sinister parallel reality where danger lurks around every corner and survival is not guaranteed. To live to fight another day, Ryohei and other unwilling contestants must win a series of deadly games, each more dangerous than the last — but returning home means putting not only his skills, but also Ryohei's humanity to the ultimate test.
The OVA series stars Yoshimasa Hosoya (AKAME GA KILL!, CHIHAYAFURU, ID: INVADED) as Ryohei Arisu, Takahiro Sakurai (7SEEDS, BABYLON, MOB PSYCHO 100) as Shuntaro Chishiya, Tatsuhisa Suzuki (BEYOND THE BOUNDARY, DIABOLIK LOVERS MORE,BLOOD, MY LITTLE MONSTER) as Daikichi Karube, Tsubasa Yonaga (FREE!, DEMON KING DAIMAO, D.GRAY-MAN HALLOW) as Chota Segawa, Maya Sakamoto (CUTIE HONEY UNIVERSE, IS IT WRONG TO TRY TO PICK UP GIRLS IN A DUNGEON?: ARROW OF THE ORION, BLACK BUTLER) as Saori Shibuki and Minako Kotobuki (PUNCH LINE, K-ON!, BLOOM INTO YOU) as Yuzuha Usagi.
A production of studios SILVER LINK. (CHIVALRY OF A FAILED KNIGHT, ARMED GIRL'S MACHIAVELLISM, STRIKE THE BLOOD), the ALICE IN BORDERLAND OVA is directed by Hideki Tachibana (IS IT WRONG TO TRY TO PICK UP GIRLS IN A DUNGEON? III, ARMED GIRL'S MACHIAVELLISM, DRAGON CRISIS!) with series composition from Ryosuke Nakamura (director GRIMGAR: ASHES AND ILLUSIONS, episode scriptwriter MONSTER, AIURA).
Sentai will stream the ALICE IN BORDERLAND OVA in association with select digital outlets with a home video release to follow.
For Sentai's latest announcements regarding this and other great titles, be sure to like them on Facebook and follow them on Twitter.
---
About Sentai
A Cool Japan Fund portfolio company, Sentai is a leading global supplier of anime and official anime merchandise, distributing and curating one of the industry's most diverse libraries of top trending and classic titles. Sentai offers thousands of hours of content across both traditional and digital platforms and is dedicated to bringing captivating stories and iconic characters directly from Japan. With hit series that include MADE IN ABYSS, FOOD WARS!, PRINCESS TUTU and PARASYTE -THE MAXIM-, Sentai's catalog continues to grow with new favorites like BLOOM INTO YOU, REVUE STARLIGHT and O MAIDENS IN YOUR SAVAGE SEASON, as well as classic anime series such as LEGEND OF THE GALACTIC HEROES and THE BIG O. For more information, visit www.sentai.com.