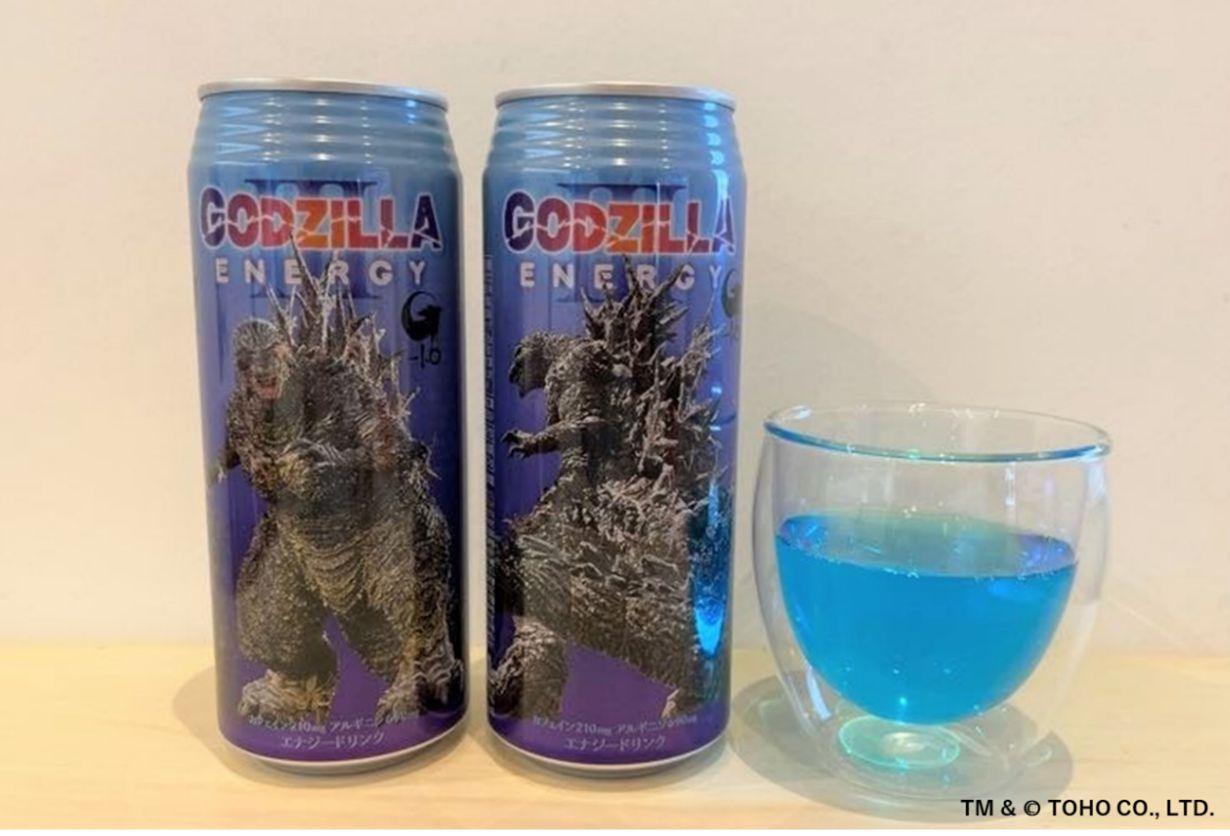 Photo courtesy of Cheerio Corporation. © TM & © TOHO CO., LTD.
Source: Cheerio Corporation press release
Cheerio Japan Co., Ltd. (Headquarters: Chiyoda-ku, Tokyo, President: Haruki Suga) will launch "GODZILLA ENERGY Ⅲ Godzilla-1.0 ver." (GODZILLA ENERGY Ⅲ ゴジラ-1.0 ver., GODZILLA ENERGY Ⅲ Gojira-1.0 ver.), an energy drink developed in the image of the ultimate monster king Godzilla, to coincide with the release of the latest Godzilla movie, GODZILLA MINUS ONE (ゴジラ-1.0/ゴジラマイナスワン, Gojira Mainasu Wan). This is the latest release in their "GODZILLA ENERGY" (ゴジラエナジー, Gojira Enajī) series, which has been a great hit with fans of Godzilla and energy drinks.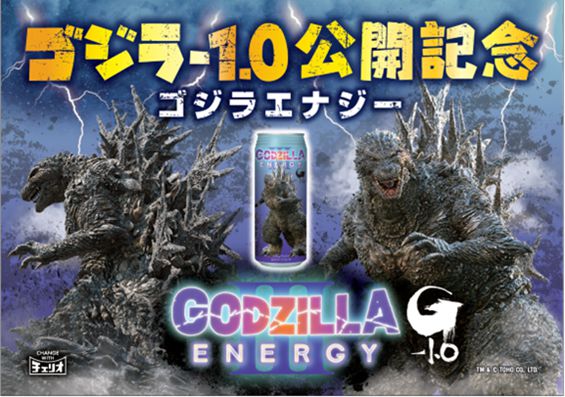 Photo courtesy of Cheerio Corporation. © TM & © TOHO CO., LTD.
The drink will go on sale starting 10:00 a.m. (JST) on Monday, October 30, 2023 at some mass retailers across Japan and Cheerio vending machines in Chubu, Kansai, Okinawa, and Harajuku (Cat Street/キャットストリート). It will also be available from the Cheerio official online shop. In addition, GODZILLA ENERGY Ⅲ Godzilla-1.0 ver. will be sold over the counter at Godzilla Store Tokyo and Godzilla Store Osaka, the official Godzilla shops.
GODZILLA ENERGY is also available in an alcoholic form, GODZILLA ENERGY CHU-HI, with its own Godzilla-1.0 design. The liquer went on sale at Maxvalu Nishinihon on Mnday, October 23, and will be available at select Aeon stores on Wednesday, November 6, 2023.

● The "Most Terrifying" Godzilla Energy Featuring Godzilla-1.0

GODZILLA ENERGY was the first Godzilla energy drink to be released, and was a big hit upon its launch in 2021. GODZILLA ENERGY II, released the following year, attracted Godzilla fans with two different package designs: "Burning Godzilla" and "Type-3 Kiryu." In early 2023 the third release featured King Ghidorah, one of the most well-known characters in the Godzilla series.
And now, GODZILLA ENERGY III will be featured in a powerful new package with Godzilla-1.0, the "most fearsome" Godzilla, all over it. The package design allows fans to enjoy both the impressive front shot of Godzilla's grim expression and the powerful back shot of his dorsal fins and tail. Cheerio hopes that fans will experience the "most terrifying" Godzilla energy to date.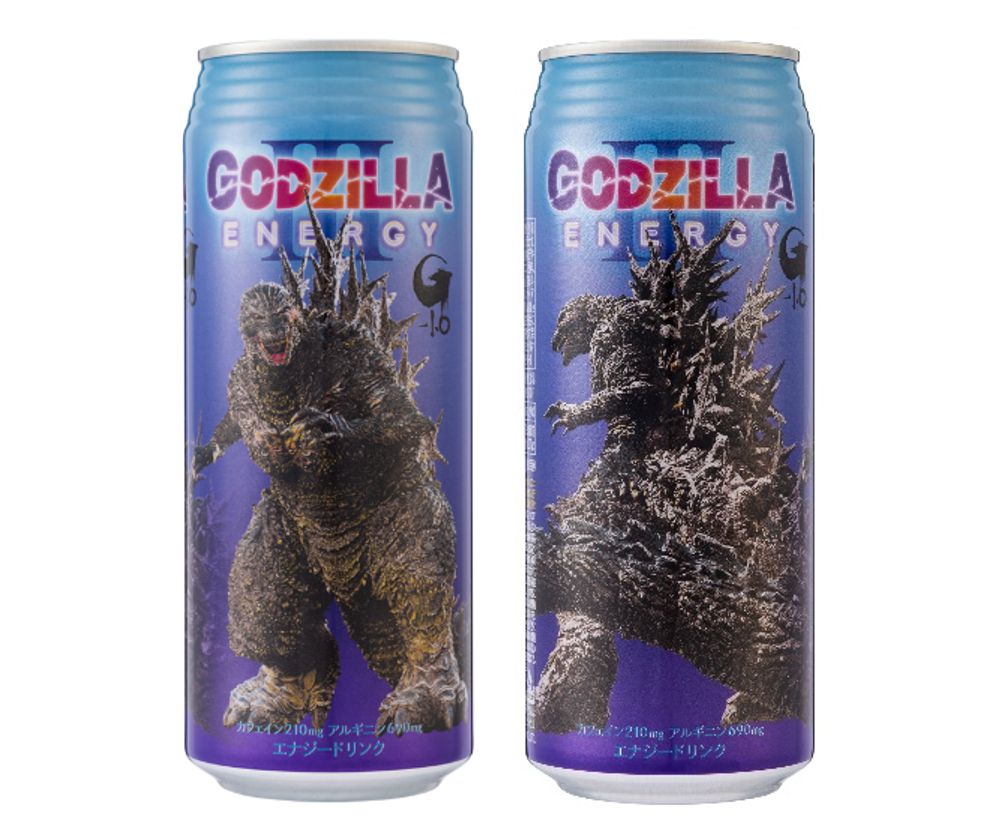 Photo courtesy of Cheerio Corporation. © TM & © TOHO CO., LTD.
● Godzilla-Class Heavy Drinking! The Blue Liquid Color Matches the Look of the Movie
In order to help bring Godzilla's 70th anniversary to life, this energy drink contains 690 mg of arginine (per bottle) and 210 mg of caffeine (per bottle), top-level amounts in the energy drink category. The drink is flavored with the image of Godzilla, and the liquid color is blue to resemble the glowing dorsal fins of the King of the Monsters.
Photo courtesy of Cheerio Corporation. © TM & © TOHO CO., LTD.
● GODZILLA ENERGY CHU-HI Alcoholic Beverage Also on Sale
The highly popular GODZILLA ENERGY is now available in a new chu-hi (sochu/soda mix) form to coincide with the release of the movie. This purple energy chu-hi drink contains 7% alcohol and arginine, and has the same flavor as GODZILLA ENERGY.
The package design allows fans to enjoy both sides of Godzilla: a shot featuring his powerful dorsal fins, and a full-body shot from a different angle.
● Cheerio's Thoughts on Collaboration with Godzilla

Godzilla is the world's strongest monster king, a powerful being that has been loved by many people around the world for about 70 years, and is one of Japan's most iconic creations. Cheerio has been creating beverages that have surprised the world for over 60 years. With the slogan "Delicious, Fun, and New" (おいしい たのしい あたらしい, Oishī Tanoshī Atarashī), Cheerio, has been providing vitality to the Japanese people since before the global energy drink market heated up with its "Lifeguard" (超生命体飲料ライフガード, Chō Seimeitai Inryō Raifugādo) energy drink launched in 1986 and "Jungleman" (ジャングルマン, Janguruman) survival energy drink launched in 2004. Through the energy drink ``GODZILLA ENERGY Ⅲ Godzilla-1.0ver,'' we will provide Japanese society and everyone around the world with the courage and vitality to face the most terrifying Godzilla.
● About Godzilla 

The King of Monsters has been making a name for himself around the world ever since he first appeared in 1954. The first film in the series was an unprecedented hit, drawing an audience of 9.61 million. Since then, more than 30 films have been produced in Japan alone, and the total number of viewers for the series has exceeded 100 million. To this day, the series continues to enjoy broad popularity and overwhelming recognition beyond generations and genders. The themes of the films have reflected the social conditions of their respective eras, and have captivatd people living in those eras.

■ GODZILLA ENERGY Ⅲ Godzilla-1.0 ver. Product Information

Product: Carbonated Soft Drink
Contents: 500ml
Ingredients: Sugar (Manufactured in Japan), Fructose Glucose Liquid Sugar, Guarana Extract, Maca Extract Powder (Maca Extract, Dextrin)/Carbonic Acid, Acidifier, Arginine, Flavor, Caffeine, Preservative (Sodium Benzoate), Sweetener (Acesulfame K, Sucralose), Niacinol, Niacin, V.B6, Colorants (Blue 1), V.B12
Release Date: Monday, October 30, 2023
Suggested Retail Price: TBA
About Caffeine: This product contains 210 mg of caffeine per can. Please drink in moderation. Children, pregnant women, lactating mothers, and those who are sensitive to caffeine should refrain from drinking this product.
■ GODZILLA ENERGY CHU-HI Product Information

Product: Sparkling Liqueur
Contents: 350ml
Release Date: Monday, October 23, 2023
JAN Code: 4902074016573
Suggested Retail Price: 158円 (Approx. $1.05 US)

TM & © TOHO CO., LTD.
---
About Cheerio Corporation
Cheerio Corporation is a leading beverage brand in Japan with over 50 years of market experience.
About Toho
Toho Company, Limited, is a Japanese entertainment studio focused on the development, production, exhibition, and distribution of powerful live action and animated content including motion pictures, television and theater. Founded in 1932, Toho remains a prominent force in bringing brands and original storytelling with versatile talents to audiences worldwide. Its subsidiaries include Toho Cinemas, the highest grossing exhibition company in Japan, and Toho International, Inc., a U.S. established incorporated company that manages and commercializes Toho's intellectual property portfolio. To learn more, visit toho.co.jp/en.