Source: Toei Co., Ltd.
Official Site: silent-tokyo.com (Japan)
A SCIFI JAPAN EXCLUSIVE
Toei has provided information and high-res photos from their upcoming thriller, SILENT TOKYO (サイレント・トーキョー, Sairento Tōkyō), about a terrorist bomber that strikes Tokyo at Christmas. The movie is based on the novel Silent Tokyo And so this is Xmas by Takehiko Hata which was, in turn, inspired by the John Lennon/Yoko Ono song "Happy Xmas (War Is Over)" that has been covered by artists all over the world.
SILENT TOKYO is directed by Takafumi Hatano of the SP television and film series. The cast includes Koichi Sato (THE PROMISED LAND, FUKUSHIMA 50), Yuriko Ishida (HIT ME ANYONE ONE MORE TIME, AFTER THE MATINEE), Hidetoshi Nishijima (CAUTION, HAZARDOUS WIFE: THE MOVIE, SHIN ULTRAMAN), Tomoya Nakamura (MURDER AT SHIJINSO, KIBA: THE FANGS OF FICTION), Alice Hirose (HYOUKA: FORBIDDEN SECRETS, DDORAEMON THE MOVIE: NOBITA'S CHRONICLE OF THE MOON EXPLORATION), Kai Inowaki (TOKYO SONATA, JU-ON: ORIGINS) and Ryo Katsuji (CROWS EXPLODE, GINTAMA 2: RULES ARE MADE TO BE BROKEN). The theme song is a cover of the Lennon classic by Japanese rapper, Awich.
SILENT TOKYO is scheduled for a Japanese theatrical release on Friday, December 4, 2020.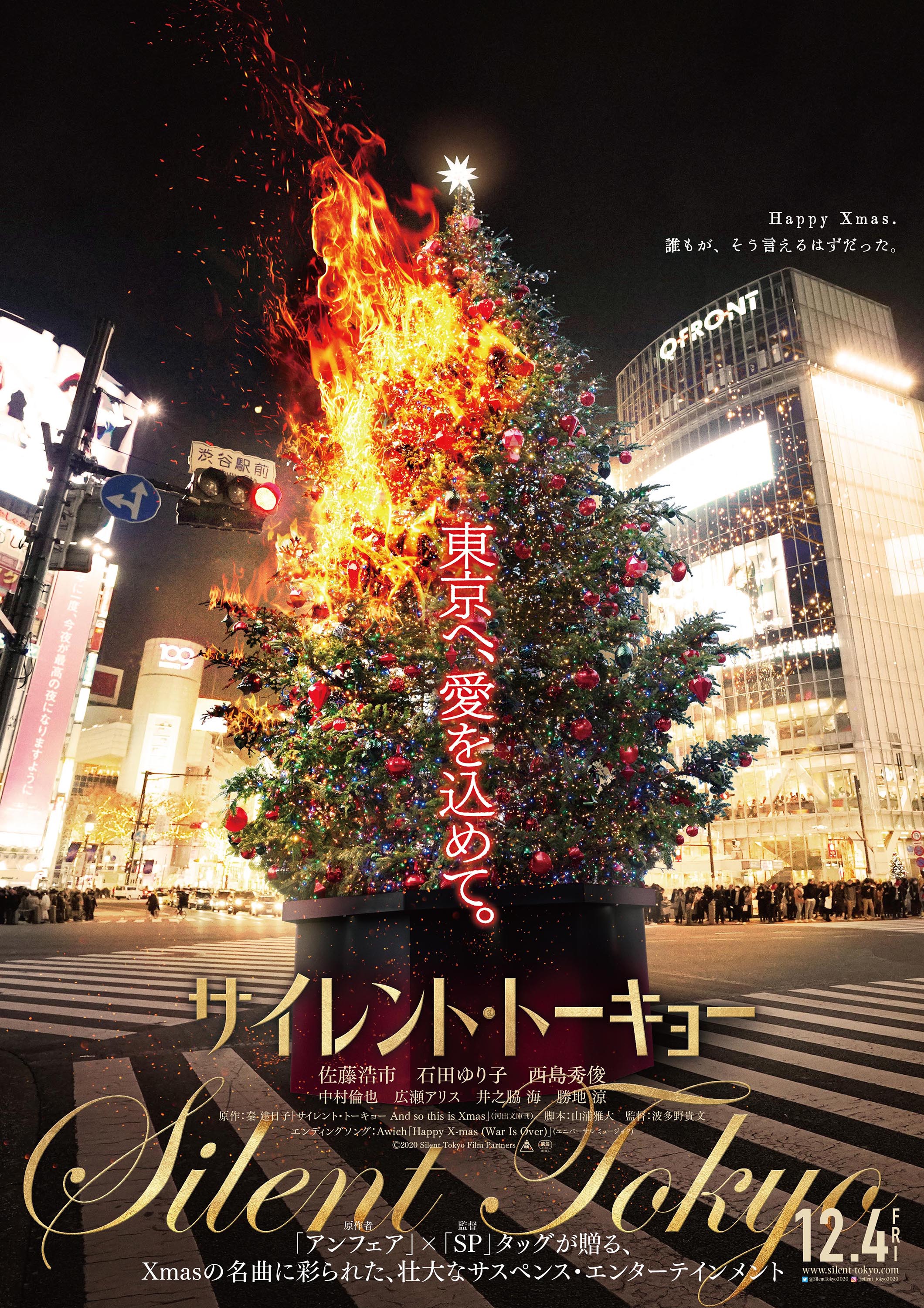 Photo courtesy of Toei Co., Ltd. ©2020 Silent Tokyo Film Partners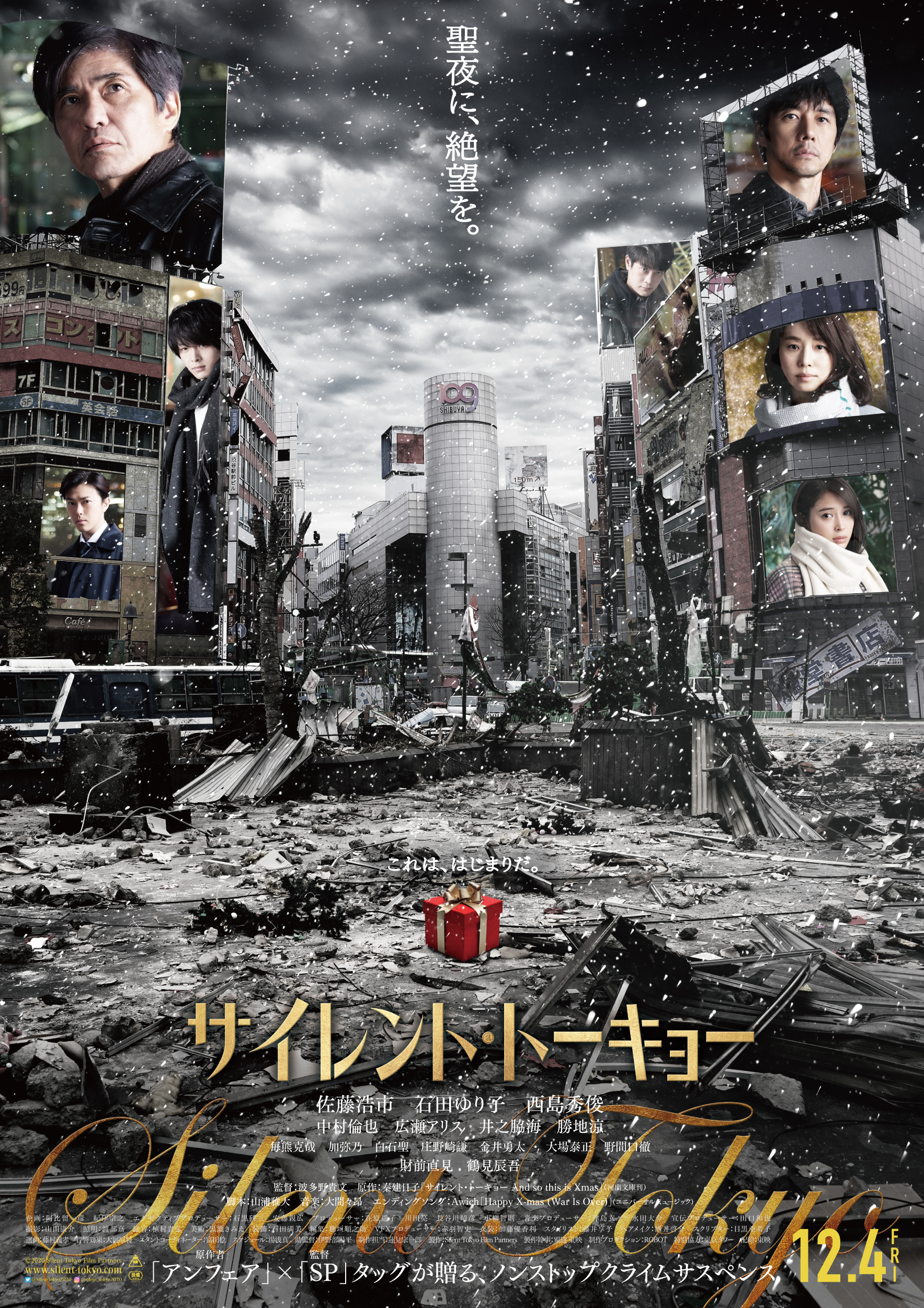 Photo courtesy of Toei Co., Ltd. ©2020 Silent Tokyo Film Partners
Story
Christmas Eve: a sacred day that comes once a year, enveloping the people of the world in joy and happiness.
On that day, a television station is contacted by an anonymous caller who claims to have planted a bomb in Ebisu in downtown Tokyo. Amid the commotion, a contract employee from the station heads to Ebisu half-dubiously to do a live report, and is framed as the culprit, together with a housewife out shopping. While all this is going on, they are being watched silently by a mysterious man…
Next, a new declaration of an impending crime is posted to a video website.
The next target is the Hachiko Square area in Tokyo's bustling Shibuya district. The video's uploader requests an audience with the prime minister, broadcast live on television.
If this demand is not accepted, a bomb will be detonated at 6 p.m.
Detectives investigate. An IT entrepreneur embarks on a baffling course of action, while two women pursue their interest in him. Thrill-seekers swarm excitedly to Shibuya… The terrorist watches from an unknown location, while various individuals race against time to try to prevent a catastrophe, and others react in delight with little concern for their own safety.
These many conflicting motivations intersect beneath the glittering illuminations of the Shibuya Scramble Crossing.
The time limit is fast approaching. Who is behind this terrifying act? And what is their purpose?
Suddenly, the streets are engulfed in a flash of light. What terrible sight is reflected in the eyes of the people of Tokyo?
This Christmas, there will be no escaping fate…
Credits
Japanese Theatrical Release: December 4, 2020
Cast
Hitoshi Asahina: Koichi Sato
Aiko Yamaguchi: Yuriko Ishida
Shinobu Seta: Hidetoshi Nishijima
Motoki Sunaga: Tomoya Nakamura
Nami Takanashi: Alice Hirose
Kota Kurusu: Kai Inowaki
Daiki Izumi: Ryo Katsuji
Ayano Innami: Kayano Masuyama
Sei Shiraishi
Ken Shounozaki
Masaya Takazawa: Yuta Kanai
Manabu Suzuki: Yasumasa Ohba
Private Investigator: Toru Nomaguchi
Naoe Sunaga: Naomi Zaizen
Takeshi Isoyama: Shingo Tsurumi
Staff
Director: Takafumi Hatano
Original Story: Silent Tokyo And so this is Xmas by Takehiko Hata (Published by Kawade Bunko)
Screenplay: Masahiro Yamaura
Executive Producers: Kii Muneyuki KII (Toei), Taomoto Yugo TAOMOTO (Toei)
Producers: Yoko Ariwara, Ryo Kawata, Haruhiko Hasegawa, Tomonori Koyanagi
Cinematographer: Kousuke Yamada
Ending Song: "Happy X-mas (War Is Over)" by Awich (Universal Music)
Production: Silent Tokyo Film Partners
Distributor: Toei
World Sales: Toei
©2020 Silent Tokyo Film Partners
---
About Toei Company, Ltd.
Established in 1951, Toei Company is not only producing and distributing films, but is also one of the major exhibitors in Japan. The company owns two film studios located in Tokyo and Kyoto. The films produced cover wide range of genres, exceeding 20,000 titles.