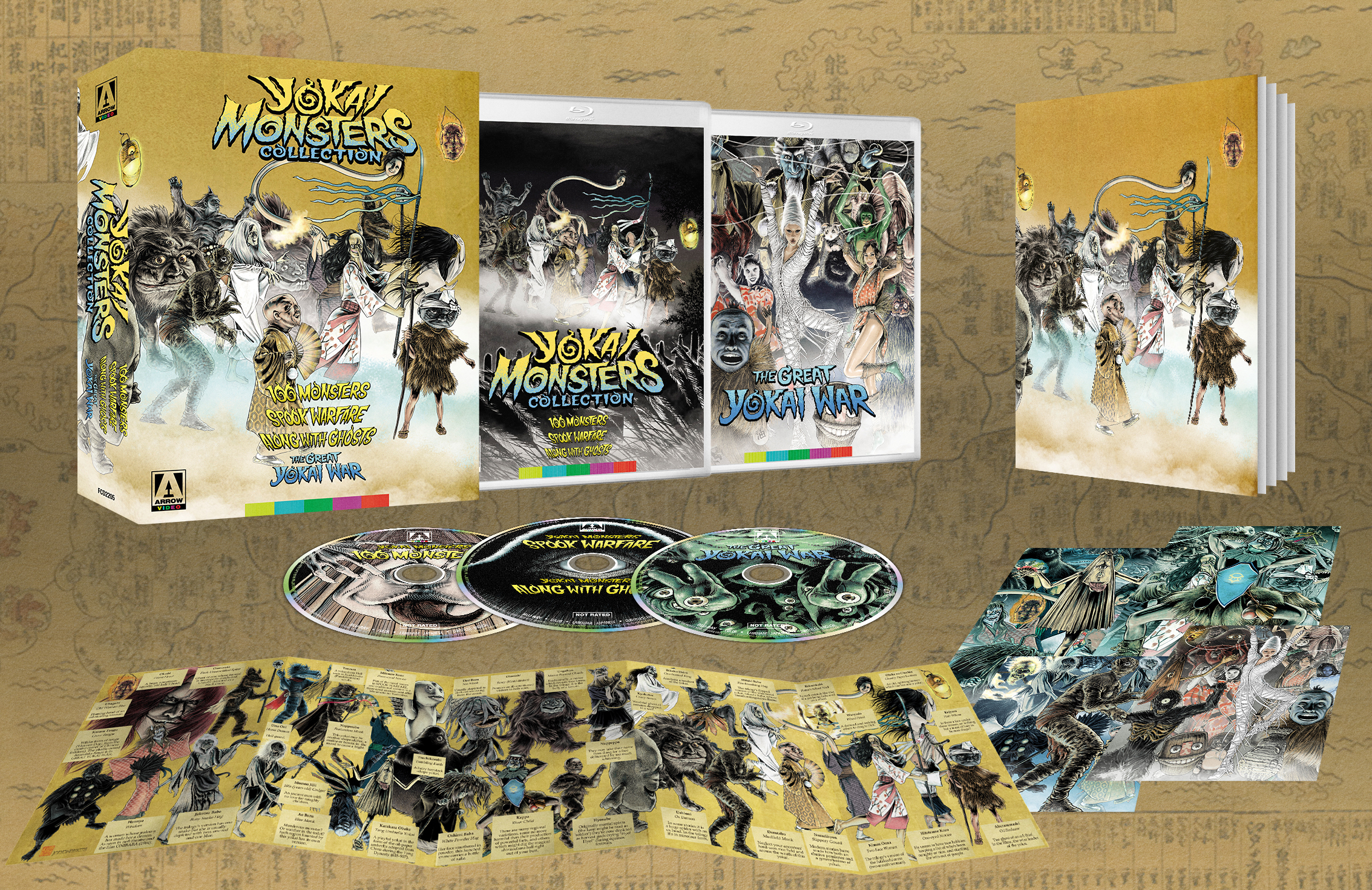 Photo courtesy of Arrow Films. © KADOKAWA
Source: Arrow Films, MVD Entertainment
Special Thanks to James Flower and Clint Weiler
Following their incredible GAMERA: THE COMPLETE COLLECTION and THE DAIMAJIN TRILOGY releases, Arrow has announced another deluxe Blu-ray set... YOKAI MONSTERS COLLECTION! The box set will be available in the United States and United Kingdom in October.
Photo courtesy of Arrow Films. © KADOKAWA
From the makers of Daimajin comes a trilogy of terror ripped from the pages of Japanese folklore, with ghosts and monsters from ancient myths and legends brought to life through stunning special effects, alongside an epic, big-budget reboot of the series from a modern-day master of the macabre, now available together on Blu-ray for the first time.
In the first film in the trilogy, 100 MONSTERS (妖怪百物語, Yōkai Hyaku Monogatari, 1968), a greedy slumlord's attempts to forcefully evict his tenants invite the wrath of the titular spirits when a cleansing ritual is botched, with terrifying results.
The second film, SPOOK WARFARE (妖怪大戦争, Yōkai Daisensō, 1968), tells the tale of an evil Babylonian vampire inadvertently awoken by treasure hunters, and a brave samurai that teams with the yokai to defeat the bloodthirsty demon.
In the final film, ALONG WITH GHOSTS ( 東海道お化け道中, Tōkaidō Obake Dōchū, 1969) -- released only 12 months after 100 MONSTERS -- the yokai are roused to defend a young girl on the run from deadly yakuza.
Decades later, none other than Takashi Miike (AUDITION) helmed THE GREAT YOKAI WAR (妖怪大戦争, Yōkai Daisensō, 2005), a loose remake of SPOOK WARFARE that used cutting-edge digital effects to renew the franchise for a new generation. In it, a young boy is given a grave responsibility: to band together with a group of yokai to defend humanity against a vengeful and powerful demon that has sworn retribution against modern-day Japan.
YOKAI MONSTERS COLLECTION
Running Time: 361 Minutes (80 + 79 + 78 + 124)
Number of Discs: 3
Language: Japanese, English
Subtitles: English
Audio: 1.0 / 5.1
Aspect Ratio: 2.35:1 / 1.85:1
US
Region Code: 0
SKU: AV387
UPC: 760137719281
Sreet Date: 10/19/21
List Price: $99.95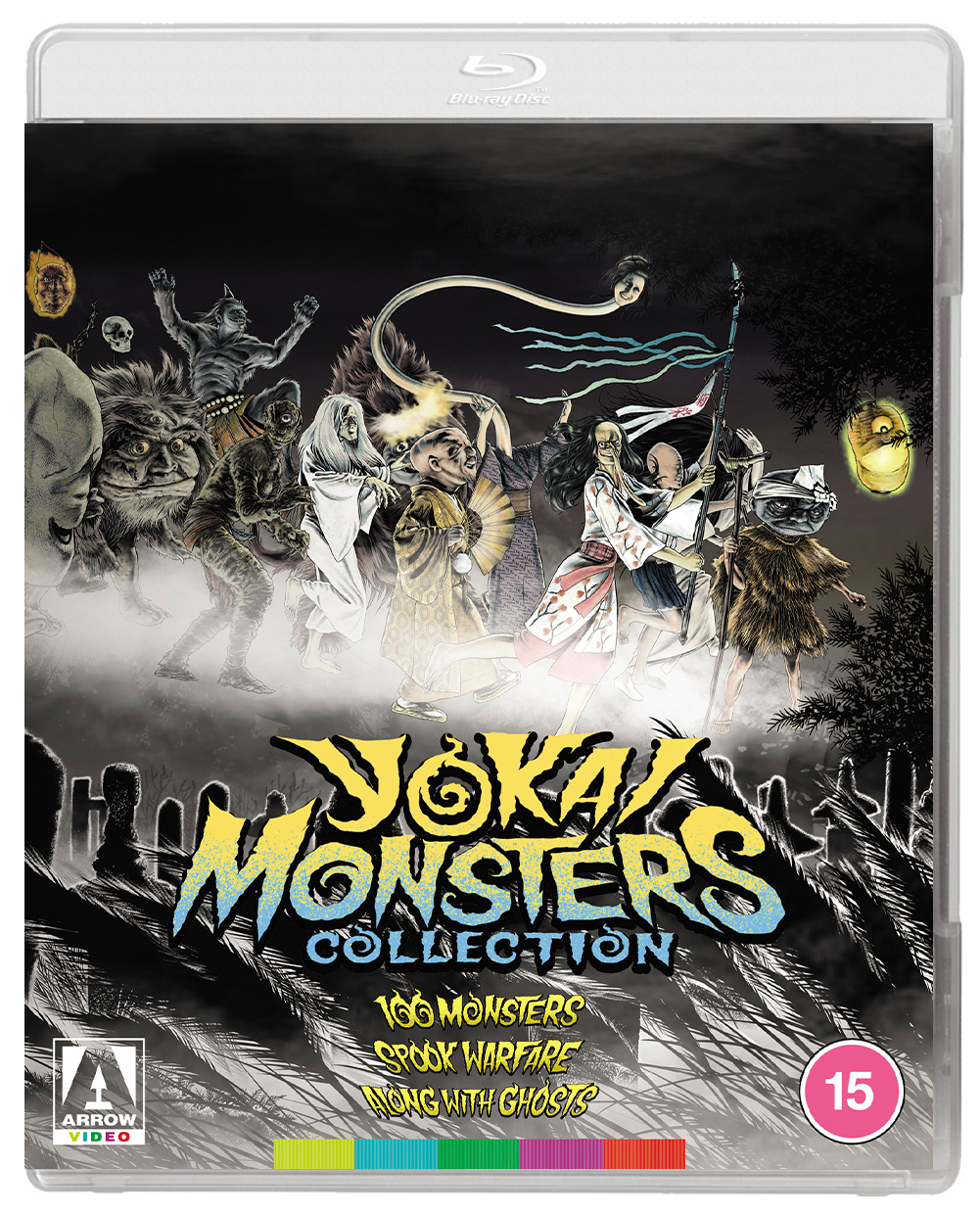 Photo courtesy of Arrow Films. © KADOKAWA
UK
Region Code: B
Product Code: FCD2205
UK Rating: 15
Street Date: 10/18/21
RRP: £59.99
LIMITED EDITION CONTENTS
High Definition (1080p) Blu-ray presentations of all four films
Optional English subtitles on all four films
Illustrated 60-page collectors' book featuring new writing on the series by Stuart Galbraith IV, Raffael Coronelli and Jolyon Yates
Reversible sleeves featuring original and newly commissioned artwork by Jolyon Yates
Postcards featuring newly commissioned artwork for each film by Jolyon Yates
Foldout 'yokai guide' poster illustrated by Jolyon Yates
DISC ONE – 100 MONSTERS
Original uncompressed Japanese mono audio
Hiding in Plain Sight, a brand new documentary giving a primer on yokai for Western audiences, featuring interviews with experts Matt Alt, Zack Davisson, Kim Newman, Lynda E. Rucker and Hiroko Yoda
Theatrical trailer
US re-release trailer
Image gallery
Photo courtesy of Arrow Films. © KADOKAWA
DISC TWO – SPOOK WARFARE / ALONG WITH GHOSTS
Brand new 4K restoration of SPOOK WARFARE by Kadokawa Pictures
Original uncompressed Japanese mono audio for both films
Theatrical trailers for both films
US re-release trailers for both films
Image galleries for both films
DISC THREE – THE GREAT YOKAI WAR

DTS-HD MA 5.1 original Japanese and dubbed English audio
Brand new audio commentary by Japanese cinema expert Tom Mes
Archive interviews with the cast and crew, including Takashi Miike
SHORT DRAMA OF YOKAI, two shorts detailing the further adventures of the yokai
ANOTHER STORY OF KAWATARO, two shorts featuring the continuing story of the kappa character in the film
World Yokai Conference, a publicity event where Miike speaks about the film
Promotional Events, video of the press conference to announce the start and completion of filming, as well as the premiere in Tokyo
Documentary on the film's young star, Ryunosuki Kamiki, and his experience making the film
Theatrical trailer
Image gallery
THE GREAT YOKAI WAR. Photo courtesy of Kadokwa. © KADOKAWA
---
About Arrow Films
Arrow Films is a leading independent entertainment distribution company, established in 1991. Operating in the UK, the Republic of Ireland, United States of America and Canada, Arrow Films is dedicated to supporting upcoming and established filmmakers of dynamic new cinema and developing an enviable slate of quality films that enjoy a lasting legacy across its award-winning branded labels, channels, and platforms.
About MVD Entertainment Group
MVD Entertainment Group is a full service music and movie distribution firm, exclusively representing thousands of audio and visual products for DVD, Bluray, CD, vinyl, and digital rights, worldwide. MVD also exclusively distributes a growing line of merchandise including limited edition collectibles, tee shirts, and more. "Serving Artists and Audiences" is MVD's purpose statement; it represents a commitment to the interests of the musicians, filmmakers, record labels, producers, managers, and every link in the supply chain. The customers are the Audience, from wholesalers, sub-distributors, major retail chains, online retailers, specialists, and independent mom and pop stores, all the way to the consumer. MVD Entertainment Group was founded in 1986 by Tom Seaman, an industry veteran with prior experience with The Record Hunter, Sam Goody, CBS Retail, and JEM Distribution. Tom, along with his family Elinor, Eve and Ed, initially focused on music videotapes. At the turn of the century, with the advent of DVD, MVD built a large catalog of exclusively distributed audiovisual content on DVDs, with special strength in music concert films, horror movies, documentaries, comedy, cult classics, and much more.