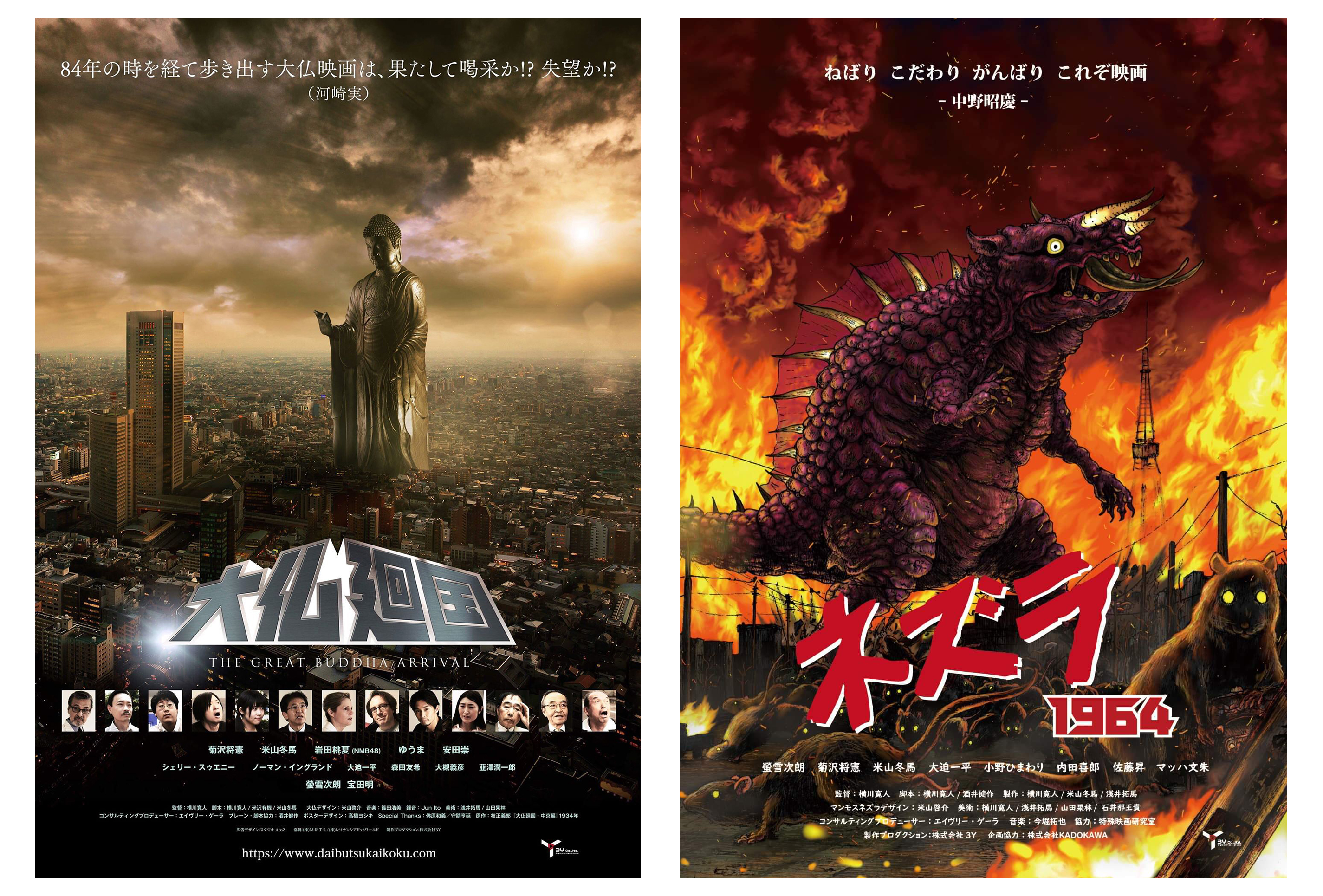 Photos courtesy of 3Y Film and Avery Guerra. THE GREAT BUDDHA ARRIVAL ©2019 3Y Film. NEZURA 1964 ©2020 3Y Film, KADOKAWA
Source: SRS Cinema LLC
Special Thanks to Avery Guerra
A SCIFI JAPAN EXCLUSIVE
Photo courtesy of 3Y Film and Avery Guerra. ©2020 3Y Film, KADOKAWA
Distributor SRS Cinema has licensed North American home media rights to the independent kaiju films THE GREAT BUDDHA ARRIVAL (大仏廻国, Daibutsu Kokaiku, 2019) and NEZURA 1964 (ネズラ1964, 2020). Limited Edition VHS and Blu-rays will be made available soon with wide-release DVDs to follow.
Directed by Hiroto Yokokawa, THE GREAT BUDDHA ARRIVAL is a remake of the long-lost 1934 film by Yoshiro Edamasa, which was quite possibly the first-ever daikaiju film from Japan. The film boasts an all-star cast of tokusatsu/kaiju actors that includes Akira Kubo (INVASION OF ASTRO MONSTER/MONSTER ZERO, SON OF GODZILLA), Akira Takarada (star of six Godzilla films, including the original), Peggy Neal (THE X FROM OUTER SPACE), Yukijiro Hotaru (The Heisei Gamera Trilogy, GODZILLA, MOTHRA, AND KING GHIDORAH: GIANT MONSTERS ALL-OUT ATTACK), Inge Murata (SHIN GODZILLA), Shelley Sweeney (four Godzilla films), Yuki Morita (GODZILLA 2014), Yoshiro Uchida (GAMERA), Yukiko Kobayashi (DESTROY ALL MONSTERS, THE VAMPIRE DOLL, SPACE AMOEBA/YOG: MONSTER FROM SPACE), Bin Furuya, (ULTRAMAN, ULTRASEVEN, MONSTER X STRIKES BACK: ATTACK THE G8 SUMMIT!) and Shiro Sano (GODZILLA 2000, GODZILLA, MOTHRA, AND KING GHIDORAH: GIANT MONSTERS ALL-OUT ATTACK, THE GREAT YOKAI WAR)
Produced by 3Y Film in association with Kadokawa, NEZURA 1964 is a drama about the infamous unmade kaiju movie by Daiei that eventually led to the creation of Gamera. The film is co-written, produced and directed by THE GREAT BUDDHA ARRIVAL's Hiroto Yokokawa and stars Yukijiro Hotaru, Masanori Kikuzawa (THE GREAT BUDDHA ARRIVAL), Kazuma Yoneyama (THE GREAT BUDDHA ARRIVAL), Yoshiro Uchida, Ippei Osako (SHIN GODZILLA, DEATH NOTE: Light up the NEW World), Himawari Ono (GAMERA THE BRAVE), Noboru Sato (CHANGEMAN KEN!, TAMPOPO), Mach Fumiake (GREAT CHASE, GAMERA: SUPER MONSTER) and Akira Ohashi (GAMERA 2: ATTACK OF LEGION, GAMERA 3: THE REVENGE OF IRIS). The staff includes supervisor Kensaku Sakai, creature designer Keisuke Yoneyama, production artists Takuma Asai, Karin Yamada and Hiroto Yokokawa, and consulting producer/publicist Avery Guerra.
---
About SRS Cinema LLC
SRS Cinema LLC is among the leaders in ultra low budget indie film distribution, having evolved to it's current form from it's roots as "Salt City Home Video" in 1992. They have handled rights to over 300 movies domestically and worldwide. SRS Cinema now distributes DVD exclusively through MVD, while their Sub Rosa branch handles limited special edition VHS releases.