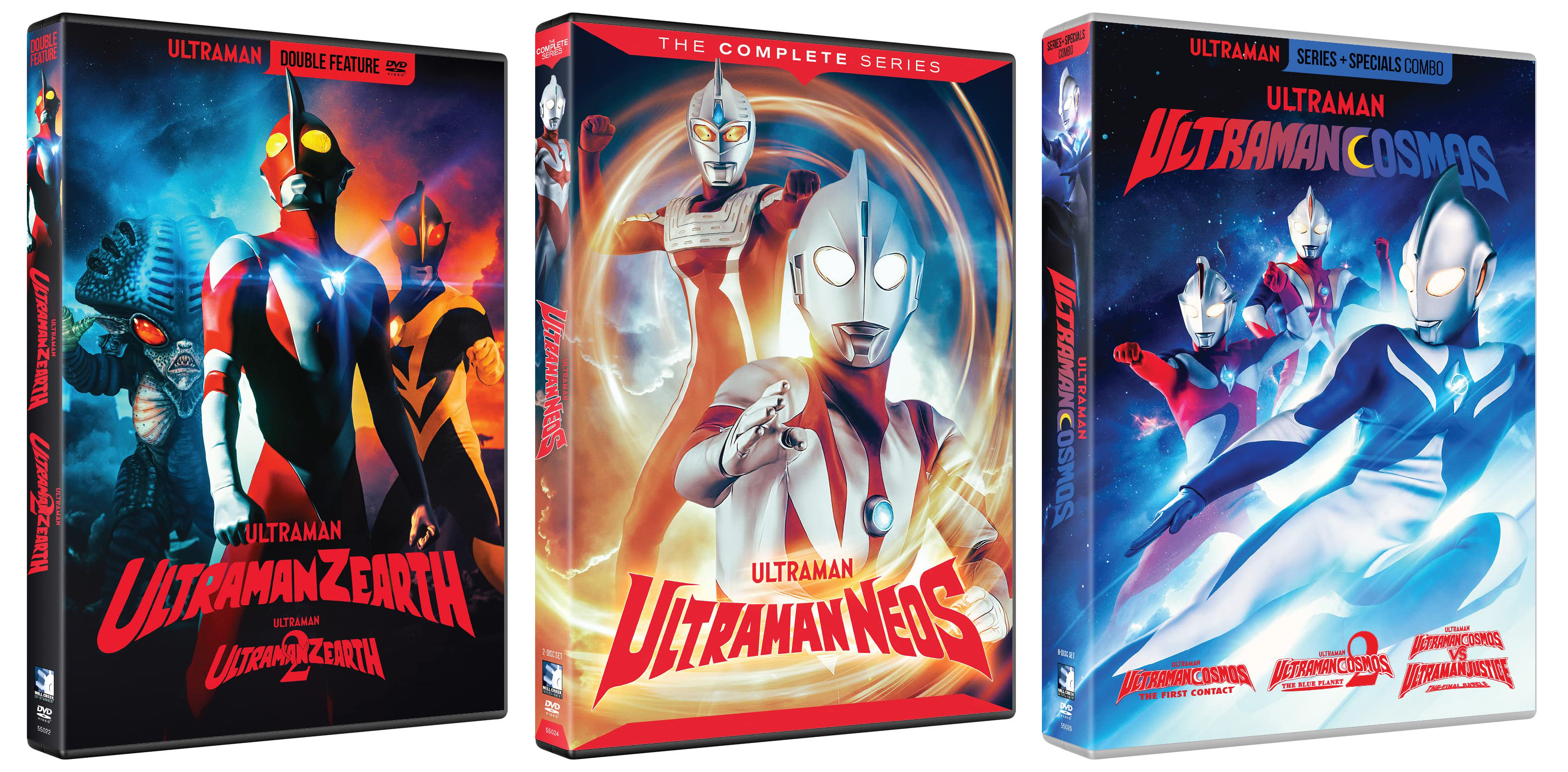 Mill Creek Entertainment brings three more Ultraman sets to DVD in North America for the first time! Photos courtesy of Mill Creek. ©TSUBURAYA PRODUCTIONS
Source: Mill Creek Entertainment
Special Thanks to Spencer Kopp, CJ Johnsen and J.W. Starrett
Mill Creek Entertainment is excited to present the North American DVD* debut of three Ultraman titles. This exciting debut comes off the back of Mill Creek Entertainment's license of the available Ultraman back-catalogue via international distribution company Indigo Entertainment, from the revolutionary team at Tsuburaya Productions Co., Ltd.
The ULTRAMAN ZEARTH Double Feature includes the 1996 movie ULTRAMAN ZEARTH ウルトラマンゼアス, Urutoraman Zeasu) and its 1997 sequel, ULTRAMAN ZEARTH 2 (ウルトラマンゼアス2 超人大戦・光と影, Urutoraman Zeasu Tsū: Chōjin Taisen Hikari to Kage). Zearth was introduced as part of the 30th anniversary of Ultraman, and offered a more comedic take on the franchise with a hero suffering from a phobia of dirt and grime.
The 12 episode series ULTRAMAN NEOS (ウルトラマンネオス,
Urutoraman Neosu
) was released direct to video in Japan in 2000-2001. The show featured two new heroes, Ultraman Neos and Ultraseven 21 (Two One), that were inspired by the original Ultraman and Ultraseven.
ULTRAMAN COSMOS (ウルトラマンコスモス, Urutoraman Kosumosu) is the longest running Ultraman series to date, with 65 episodes airing from 2001-2002. The show was designed to inspire children with a kinder, gentler Ultraman. Mill Creek's DVD set includes the complete series plus the three theatrical tie-in films, ULTRAMAN COSMOS: THE FIRST CONTACT (ウルトラマンコスモス THE FIRST CONTACT, Urutoraman Kosumosu Za Fāsuto Kontakuto, 2001), ULTRAMAN COSMOS 2: THE BLUE PLANET (ウルトラマンコスモス2 THE BLUE PLANET, Urutoraman Kosumosu Tsū Za Burū Puranetto, 2002) and ULTRAMAN COSMOS VS ULTRAMAN JUSTICE: THE FINAL BATTLE (ウルトラマンコスモスVSウルトラマンジャスティス THE FINAL BATTLE, Urutoraman Kosumosu VS Urutoraman Jasutisu Za Fainaru Batoru, 2003).
Mill Creek Entertainment is the home entertainment industry's leading independent studio for Blu-ray, DVD, and digital distribution. With direct sales pipelines to all primary retail and online partners, Mill Creek Entertainment licenses, produces, markets and distributes a dynamic array of film and television content to over 30,000 retail stores and thousands of websites reaching millions of customers across North America. Mill Creek Entertainment's expansive library includes Oscar®-winning theatrical feature films, Emmy®-winning classic and current TV series, original documentary productions and pop-culture favorites that enlighten, educate and entertain. Mill Creek Entertainment is based in Minneapolis, Minnesota. For more information, please visit www.millcreekent.com