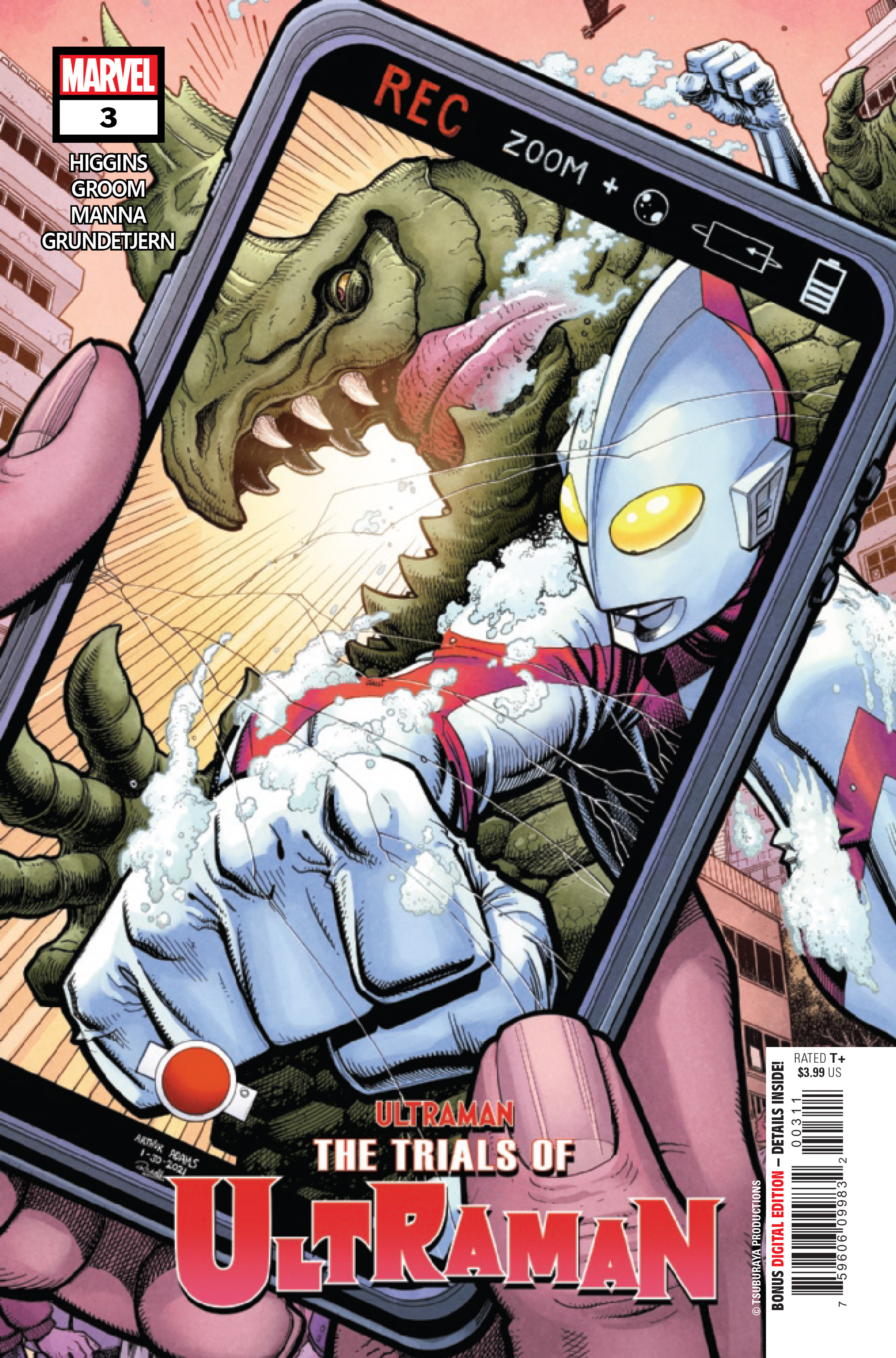 Photo courtesy of Marvel. ©TSUBURAYA PRODUCTIONS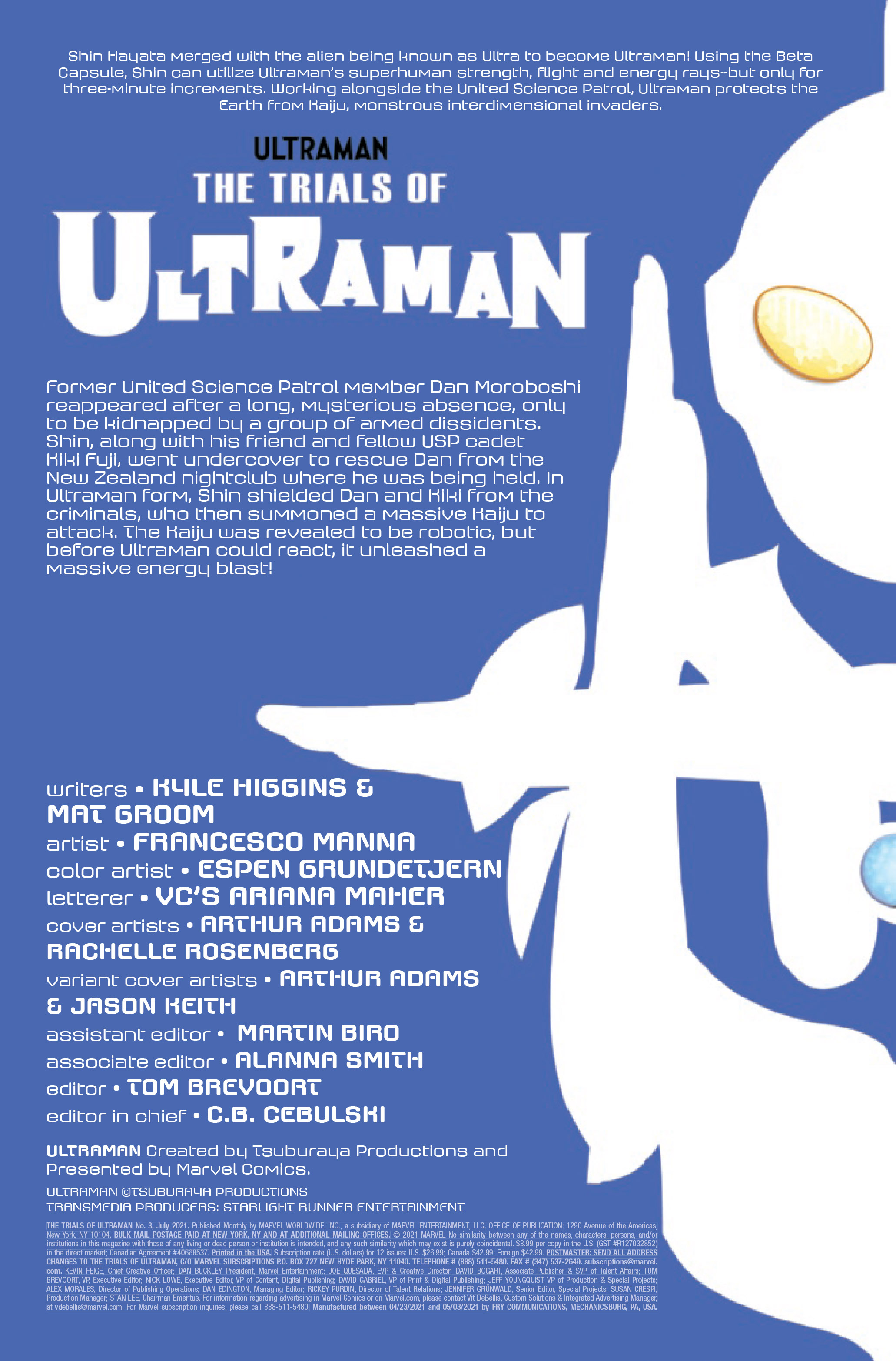 Photo courtesy of Marvel. ©TSUBURAYA PRODUCTIONS
Source: Marvel Entertainment
Special Thanks to Anthony Blackwood
Marvel has provided a preview of the next issue of their second Ultraman mini series. The Trials of Ultraman #3 will be available from comic shops and other retailers next Wednesday, May 19th.
The Trials of Ultraman #3
Writers: Kyle Higgins, Mat Groom
Artist: Francesco Manna
Cover Artist: Art Adams
It turns out that the forces aligned against the USP and Ultraman are far more widespread-and more organized!-than our heroes had ever suspected. If they're going to survive, they'll need a new ally of their own...and the man they're looking at just so happens to be one of the most powerful and influential people in the world.
But what's his history with the USP, and why does he seem to have his own hidden agenda?
In Shops: May 19, 2021
SRP: $3.99
Photo courtesy of Marvel. ©TSUBURAYA PRODUCTIONS
Photo courtesy of Marvel. ©TSUBURAYA PRODUCTIONS
Photo courtesy of Marvel. ©TSUBURAYA PRODUCTIONS
Photo courtesy of Marvel. ©TSUBURAYA PRODUCTIONS
---
About Marvel Entertainment
Marvel Entertainment, LLC, a wholly-owned subsidiary of The Walt Disney Company, is one of the world's most prominent character-based entertainment companies, built on a proven library of more than 8,000 characters featured in a variety of media over eighty years. Marvel utilizes its character franchises in entertainment, licensing, publishing, games, and digital media.
About Tsuburaya Productions
Tsuburaya Productions, creator and copyrights owner of the superhero ULTRAMAN series was founded in 1963 by Eiji Tsuburaya, world-renowned special effects wizard also known for his special effects work on the Godzilla series. With more than fifty years` experience, it is one of Japan`s oldest and most respected independent film and television production houses. Its popular Ultraman TV and film series which premiered in 1966 has been seen in over 100 territories worldwide and has spawned over 3,000 licensed products. In addition to production, the company also handles character licensing and program distribution and staging live stage shows both domestically and internationally.
About The Licensing Group Ltd
The Licensing Group Ltd (TLG) was founded in 1992 in Los Angeles by Danny Simon, one of the industry's premier innovators and foreign licensing experts. The principal focus of the licensing agency is Entertainment, Lifestyle and Corporate Brand licensing. The Licensing Group continues to generate many successful licensing programs for both the domestic and global markets. The Licensing Group also represents manufacturers with the acquisition of licenses and consults on licensing to both licensors and licensees as well as to organizations and government entities.
About Ultraman Galaxy
Ultraman Galaxy
is the official website for the Ultraman franchise for North America. They feature news, videos, licensing information, and product profiles for the Ultraman series of television shows and movies, and the transmedia universe of the Ultra heroes. Ultraman licensing in North America is represented by The Licensing Group Ltd. The Ultraman Galaxy website is a production of Starlight Runner Entertainment in association with Tsuburaya Productions Co. and The Licensing Group.