Source: Toho Co., Ltd., Koala Sleep Japan Co. press releases
Official Koala Mattresses|GODZILLA MINUS ONE Collaboration Site: https://koala.com/ja-jp/godzilla-collab
In commemoration of the release of GODZILLA MINUS ONE (ゴジラ-1.0/ゴジラマイナスワン, Gojira Mainasu Wan), there will be a collaboration with Koala Sleep Japan Co. Godzilla will be featured in advertising using the tagline "Sleep comfort, Godzilla level" for the Koala mattress, which uses "fast vibration absorption" technology.
■ Koala Mattresses|GODZILLA MINUS ONE Collaboration Campaign
1: Look for Koala and Godzilla tie-in cabs!
For one week from Monday, October 30 to Sunday, November 5, 2023, 100 taxis with Koala and Godzilla tie-in designs will be available in the 23 wards of Tokyo. Those who take a ride in one of these ultra-rare cabs will be offered a chance to win a Koala mattress.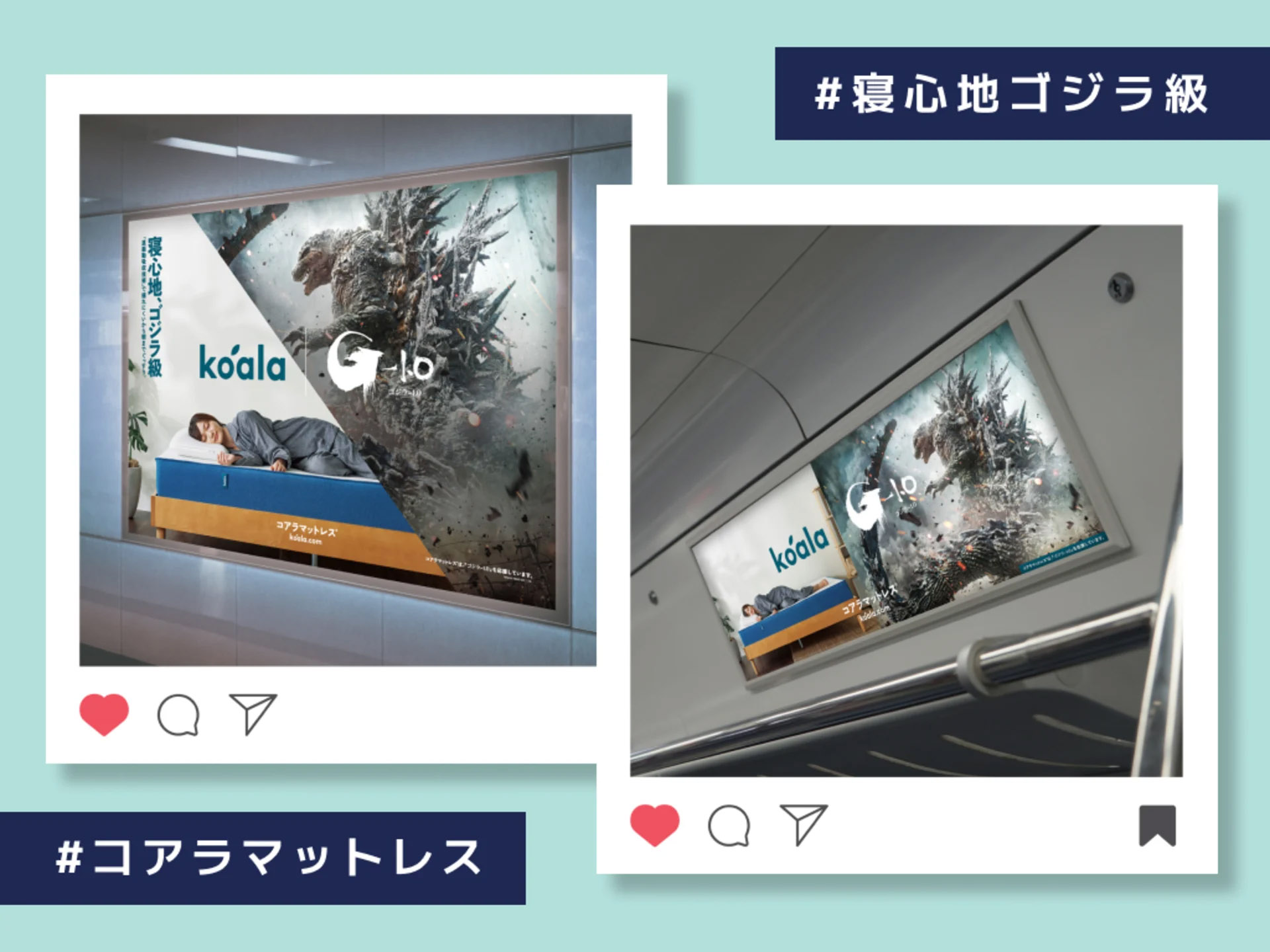 Photo courtesy of Toho. TM & ©TOHO CO., LTD. © 2023 Koala
2:) Snap a picture of the Godzilla and Koala tie-in ads around town!
Starting Monday, October 30, advertisements for the Koala Mattresses|GODZILLA MINUS ONE Collaboration will appear in various locations around Japan. Fans can take a snapshot of one of the ads and post it on their SNS account (X, Instagram) with #寝心地ゴジラ級 (#Godzilla level of sleeping comfort), #コアラマットレス (#Koala mattress), and one comment to be entered in a random drawing to win a Koala mattress. Ten winners in total.
GODZILLA MINUS ONE, a film commemorating the 70th anniversary of Godzilla, is directed by Takashi Yamazaki, who also wrote the screenplay and created the VFX. The film will be released in Japan on November 3 and open in North American cinemas on December 1, 2023. For more on information, please see the earlier coverage here on SciFi Japan...
---
About Toho Co. Ltd.
Toho Company provides high-quality entertainment to a wide range of customers through its film production, distribution, and exhibition business, which is solidly supported by its real estate business including the Shinjuku Toho Building and Hibiya Chante, animation production, DVD software production and sales, and TOHO Cinemas' efforts to expand its network of multiplex cinemas. Among these, "Godzilla," which has been around since 1954, is Toho's flagship IP that has many fans around the world and has been loved for many years.
About Koala Sleep Japan
Koala Sleep Japan is engaged in the import, distribution and sales of furniture and interior products (home furnishing products) under the direction of its parent company, Koala Sleep Pty Ltd Australia. It is one of the first bedding and furniture brands in Japan to adopt a D2C (direct-to-consumer) business model, providing a state-of-the-art online shopping experience. Since 2017, the company has also entered into a partnership with the World Wide Fund for Nature (WWF), donating over A$1.5 million from the sales of koala mattresses, koala sofas, and koala sofa beds.