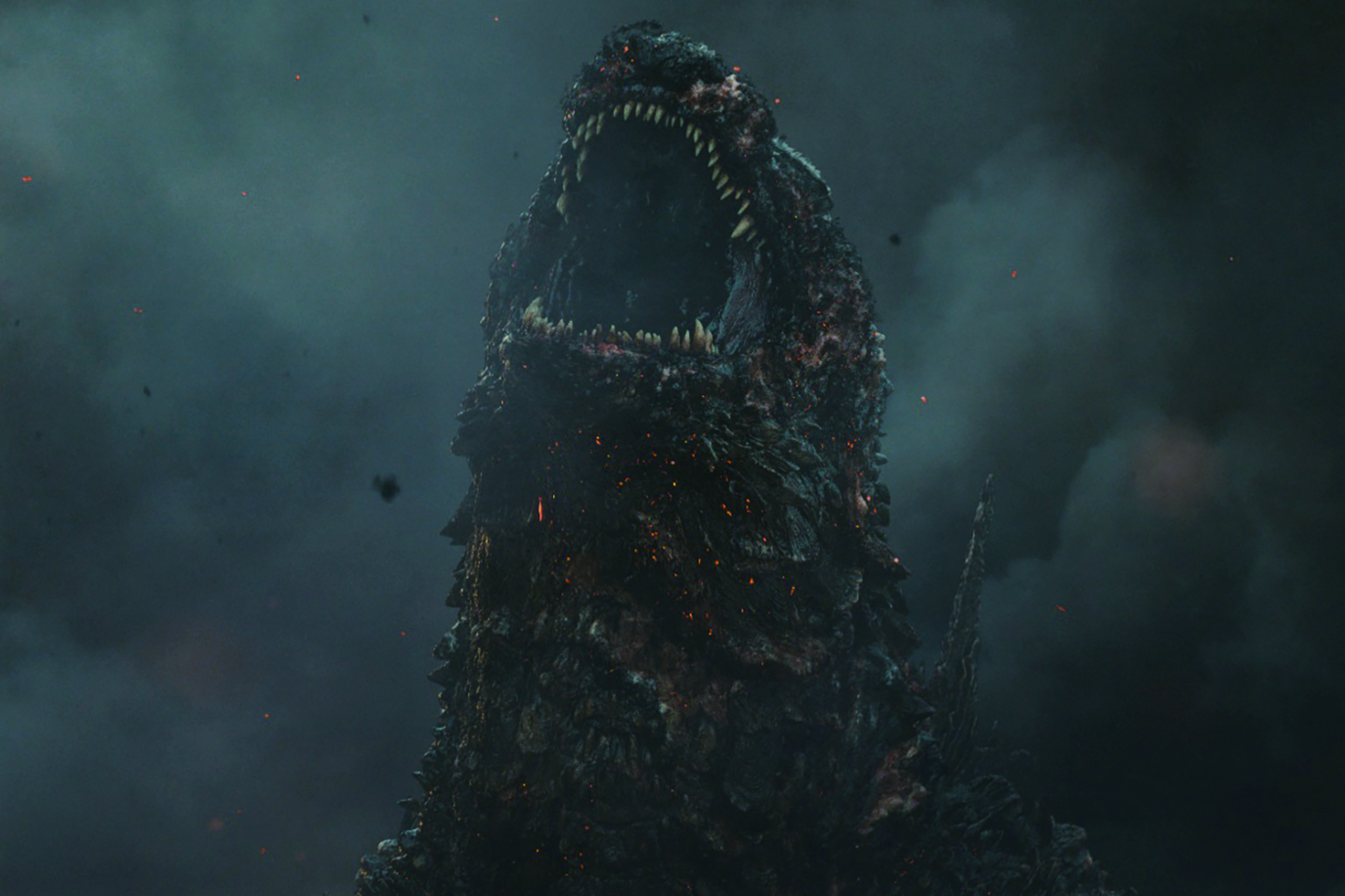 GODZILLA MINUS ONE roars into the UK and Ireland with a theatrical release this December. Photo courtesy of Toho. TM & ©TOHO CO., LTD.
The following press release details the upcoming UK and Ireland theatrical release of GODZILLA MINUS ONE (ゴジラ-1.0/ゴジラマイナスワン, Gojira Mainasu Wan)...
Almost seventy-years after the King of Monsters first towered over cinema screens and established itself as a cultural icon of Japan, Godzilla is back! Anime Limited and Toho Co., Ltd are excited to announce that GODZILLA MINUS ONE will soon be rampaging in your city, with a release exclusively in cinemas across the United Kingdom and Ireland from 15th December 2023.
The latest film in Toho's classic series, GODZILLA MINUS ONE was crafted to be the most terrifying incarnation of the character yet, returning the franchise to its post-war roots with a Japan gripped by the helplessness of having already lost everything before this new, monstrous threat emerges. When despair is piled on top of despair, will the people be able to survive, never mind fight back?
Calling GODZILLA MINUS ONE "the culmination of all the films I have made to date, and one that deserves to be "experienced" rather than "watched" in the theater", the film is written and directed by the acclaimed filmmaker Takashi Yamazaki. Inspired by formative experiences with STAR WARS and CLOSE ENCOUNTERS OF THE THIRD KIND, Yamazaki has become a leading figure in Japan's visual effects industry, and has won multiple awards for bringing Japan's pop culture icons to the big screen, with films including STAND BY ME DORAEMON, LUPIN III: THE FIRST and THE GREAT WAR OF ARCHIMEDES.
GODZILLA MINUS ONE had its World Premiere on 18th October 2023 and is also selected as the closing film of the 36th Tokyo International Film Festival. The film stars Ryunosuke Kamiki (YOUR NAME) alongside Minami Hamabe (SHIN KAMEN RIDER).
Synopsis:
The worst despair in the series' history strikes Japan!
After the war, Japan has been reduced to zero.
Godzilla appears and plunges the country into a negative state.
The most desperate situation in the history of Japan.
Who? And how?
Will Japan stand up to it?
GODZILLA MINUS ONE will be released in cinemas, IMAX and 4DX across the United Kingdom and Ireland from 15th December 2023 in Japanese with English subtitles. For more information and to book tickets, please visit godzillafilm.co.uk
The film will be released in Japan on November 3 and open in North American cinemas on December 1, 2023. For more on information, please see the earlier coverage here on SciFi Japan...
---
About Anime Limited.
Based out of Glasgow, Anime Limited is Europe's premiere distributor for Japanese animation, renowned for bespoke collector's editions of fan-favourite anime and soundtracks, connecting Western audiences with creators across languages and oceans, and helping to bring anime front and centre in cinemas. Anime Limited proudly produces releases from the biggest franchises in anime including Cowboy Bebop, Attack on Titan, NEON GENESIS EVANGELION, Mobile Suit Gundam, Tokyo Ghoul, Your Name, Weathering With You, Mirai, BELLE and JUJUTSU KAISEN.
About Toho Co. Ltd.
Toho Company provides high-quality entertainment to a wide range of customers through its film production, distribution, and exhibition business, which is solidly supported by its real estate business including the Shinjuku Toho Building and Hibiya Chante, animation production, DVD software production and sales, and TOHO Cinemas' efforts to expand its network of multiplex cinemas. Among these, "Godzilla," which has been around since 1954, is Toho's flagship IP that has many fans around the world and has been loved for many years.